Carroll County Firearms Facility
---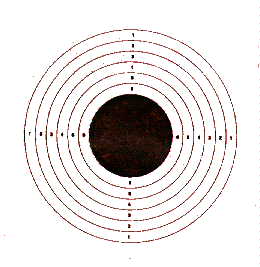 10 Lanes/Range lengths of 25 - 200 yards
The Carroll County Firearms Facility is operated by the Carroll County Department of Recreation and Parks.
For more information, or to acquire a user application,
contact or call:

Carroll County Department of Recreation and Parks
125 North Court Street, Suite 205
Westminster, Maryland 21157
410-857-2103

ADA Accessibility Statement





---
PURPOSE/OBJECTIVE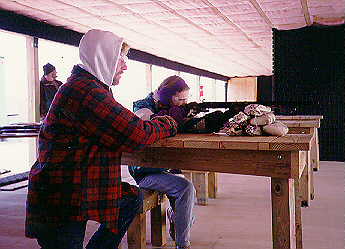 Few inventions have shaped American history more than the firearm. The purpose of the Carroll County Firearms Facility is to provide firearms enthusiasts a safe environment for practicing their sporting activities and police units with a facility for conducting certification, training and practice operations.
Primary objectives of the Facility are safety, education and training, good sportsmanship, and good public relations.
---
HOURS of OPERATION
The Firearms Facility hours are as follows:
January 2-March 31
Friday through Sunday
10:00 a.m. to one hour before sunset
April 1-December 31
Wednesday through Sunday (closed Mon. & Tues.)
10:00 a.m. to one hour before Sunset

Open on Thanksgiving Day

Closed on Christmas and New Year's Day

Individual user time is limited during peak hours.
The range will be supervised at all times by a certified Range Officer.
---
RANGE FEES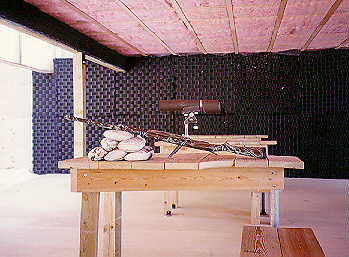 Use of the Firearms Facility is available on a daily or yearly basis. User fees are as follows:
Daily fee:
$ 5.00 - County Resident
$ 10.00 - Out of County Resident
Season pass:
$30.00 - Country Resident
$60.00 - Out of County Resident
All users are required to sign an agreement to obey all rules and to assume personal responsibility for any personal injury and/or damage to property.
---
FACILITY CONSTRUCTION OVERVIEW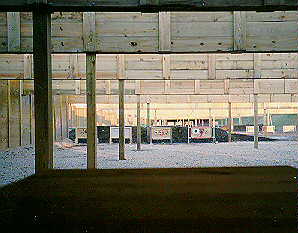 The Carroll County Firearms Facility is designed and built to meet National Rifle Association range specifications. Design elements focus on safety, providing many safeguards to contain fire. Noise abatement is another focal point. Sound and safety baffles form a definitive shield near the firing line. Earthen berms and aggregate filled safety walls provide additional sound absorption and safety features. Ranges available at the facility include 25, 50, 100 and 200 yards.
---
DIRECTIONS to FACILITY
The Carroll County Firearms Facility is located off Route 140 just north of Reese Road. From the Baltimore Beltway (Route 695) take Route 795 (Northwest Expressway) to Route 140 North toward Westminster. Use the entrance to Carroll County's Northern Landfill and follow the signs to the facility.
---
SAFETY RULES/REGULATIONS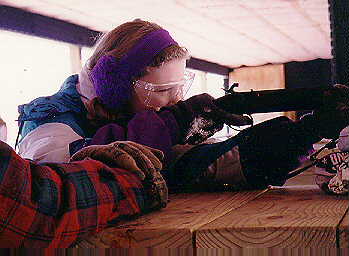 SAFETY IS MORE THAN A SET OF RULES.
Gun owners must accept personal responsibility for self-education and for teaching others about safety. All Facility users MUST adhere to posted rules. Failure to do so may result in eviction from the premises and/or revocation of user badge.
Following is a list of major Facility rules. Users are expected to familiarize themselves with ALL rules and strictly adhere to them. These rules were designed for the safety of Facility users and the public alike.
Fully automatic firearms and rapid fire shooting will not be allowed, except for police qualification. Shotgun use will be limited to pattern testing and slug sight in.
A loaded firearm MUST be kept pointed downrange at all times. In the event of a misfire, alert the range officer, continuing to keep the firearm pointed downrange.

A firearm shall be loaded only on the firing line (with the exception of muzzleloaders). Firearms must be kept open and magazines removed at all other times.

Eye and ear protection MUST be worn at all times while on the firing line.

Your firing line position and target position must correspond. Angle firing is not permitted on any range.

Ammuniton/Load Limitations: Handgun/rifle calibers are not to exceed 50 caliber, with the exception of black powder; shotgun load not to exceed 10-guage. Military tracer and armor piercing rounds shall not be used.

When up to three shooters are using the range, mutual consent must be reached to make the line Hot or Cold. When the line is Cold, no firearm may be handled.

Upon a call of "cease fire," all shooters shall immediately stop shooting and empty all firearms, magazines out, slides back. Targets shall be changed only after an "all clear" from the Range Officer.

Alcoholic beverages are strictly prohibited. Persons suspected of being under the influence of alcohol, or any other depressant or stimulant, will not be permitted to use the Facility.

No pets are allowed on the premises.

No smoking is allowed on the firing line or in any structures at the Facility.

No littering. Individuals or groups using the Facility are responsible for keeping the area clean. This includes policing the area of brass.

Persons under 18 years of age must be accompanied and supervised by an adult at all times.

Shooting shall be with paper targets only on stationary frames.

Spectators shall remain clear of and behind the firing line at all times.

Facility identification badges must be worn visibly while on the premises. No badge is to be loaned or transferred to another person at any time. I.D. may be required.

A range officer shall be designated and shall be in complete charge at all times.

The Range Officer's decisions/discretion is final in all cases.
---
Major Contributors/Supporters
Carroll County Board of Commissioners
Carroll County Sportsmen's Association
Maryland Department of Natural Resources
National Rifle Association
Carroll County Department of Recreation and Parks
Bureau of Buildings and Grounds
Landfill Operations