AUDIO LINK - GAME FEEDERS
---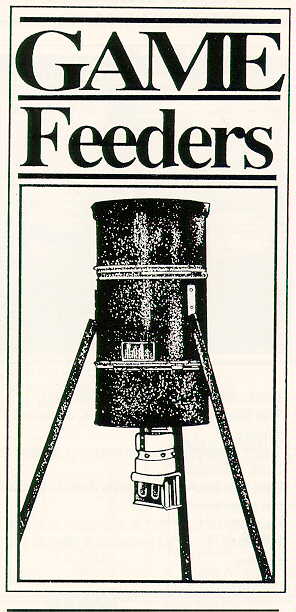 AUDIO LINK - GAME FEEDERS

3141 Waterloo Circle
Edmond, Oklahoma 73034
1-800-330-0017
405-359-0017
GAME FEEDER II
This unit contains: Motor, timer, batteries, mounting template, coupler, hardware.
Unit feeds up to 8 times in one day.
Motor run time is variable from 1 to 20 seconds.
Scatters grain in a 15 to 18 foot diameter circle.
The clock may be set at any of the 8 different feed times during the day. Once the clock is set, any combination of the feed times is available.

16 GAL. /100 LB
30 GAL. /200 LB
55 GAL. /300 LB

Holds 100, 200, or 300 pounds of feed.
May be suspended from above or mounted on legs.
Heavy-duty brackets allow either 1-inch or 1.5 inch diameter
Galvanized lid keeps water out and increases feeder life. The lid is held securely in place by a spring on one side and chain on the other side. This allows easy access to the feeder.
Uses either the Game Feeder I, Game Feeder II, or Game Feeder III timer. Mounting hardware is installed on the container.
IVE21HSNS396