Uncle Bud's Bulls Bags
---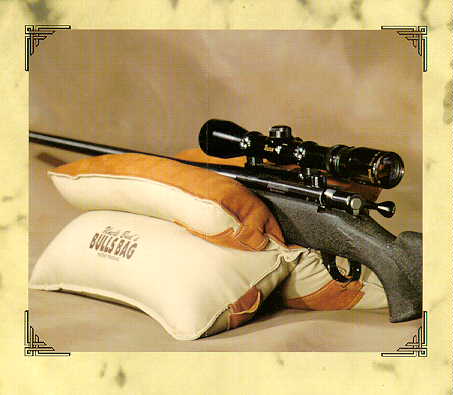 1992 Tonoloway Tack Drivers
HCR 81 Box 100
Needmore, PA 17238
The really well prepared shooter will want both models of Uncle Bud's bulls, Bags to be able to take advantage of any shooting situation he or she encounters.
And to have the best the shooting world has to offer, get Uncle Bud's Portable Shooting Bench and Bulls Bag to be on target every time.
Make your investment in your gun and scope really pay off by using them with Uncle Bud's Bulls Bags and Shooting Bench. See for yourself the difference Uncle Bud's Bag and Bench Shooting System can make for you. Get yours now so you'll be ready to hit the target with your first shot the next time you go shooting.
Uncle Bud's Portable Shooting Bench; Height 37", weight 40 lbs. Uncle Bud's Shooting Bench is the best portable shooting equipment offered to the sporting enthusiast.
Check out these unique features:
Completely Portable - Field assembly in less than 5 minutes. No tools required.
1/8" Steel base plate with pre-drilled bolt holes.
Six 1" square, heavy-walled steel legs provide unmatched stability and comfort.
Padded seat and armrest accommodate right or left-handed shooters.
24" x 16" exterior-grade plywood top rotates through 360 degrees or locks solid.
Total weight of 40 pounds; easily transported in re-useable carrying box with built-in handle.
Uncle Bud's Bench Model Bulls Bag with rifle in shooting position.

Choose the 9 1/2" Field Model Bulls Bag when you are heading to the field and want a more portable, lighter weight bag to shoot with. The Field Model weighs in at about 25 pounds when filled with sand and is easily carried. The professionally sewn durable cloth material and suede leather will hold your firearm like nothing you've ever used before. Some of the many uses for the field model include in stands, on props and shooting benches or on the hood of a vehicle.

The 15 1/2" Bench Model, weighs about 40 pounds when filled with sane dna is ideally suited for those shooting situations where weight and portability are not big factors. Like its smaller brother, Uncle Bud's Bench Model Bulls Bag locks in your firearm with its butterfly motion and lets you shoot with more confidence and greater accuracy.