PREDATOR, INC.
---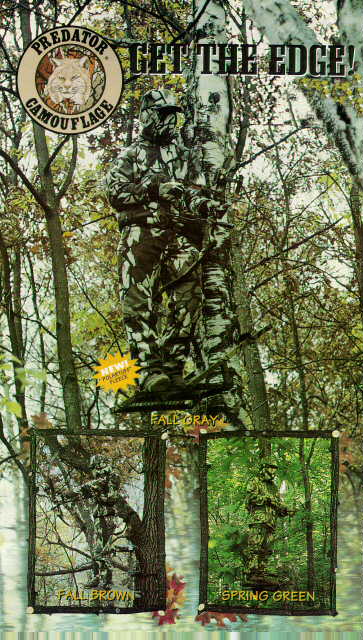 PREDATOR, INC.
2605 Coulee Ave.
La Crosses, WI 54601

Phone (608)787-0500
FAX (608)787-0667

PREDATOR CAMOUFLAGE

GET THE EDGE

"Man is the ultimate predator... shouldn't you dress the part?"

Thousands of hard-core hunters can't be wrong! The PREDATOR CAMOUFLAGE pattern with its large blotches of medium to dark tones, light background and black multi-directional branch pattern, combine to create a camouflage pattern that is unparalleled in its silhouette breaking ability! We have combined these qualities with a full line of insulated and uninsulated garments that are produced using only the finest fabrics, from soft durable 100% cottons to our new super quiet Polartuff fleece. PREDATOR CAMOUFLAGE clothing is available at quality sporting goods dealers.