HUGH'S TAXIDERMY
---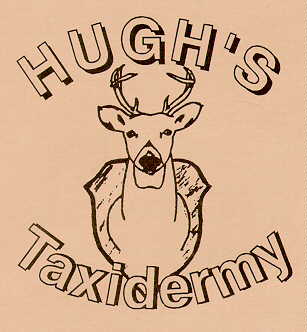 Call for Pickup
(301) 607-9411
Specializing in:
Big Game Heads and Small Game
Quality Work . Lowest Prices
LICENSED TAXIDERMIST


IMPORTANT NOTES:
1) DO NOT cut the throat of any animal.
2) Do NOT make any field dressing incision above the sternum. Short capes may cause a shoulder mount to be impossible.
3) Keep head, hide, feet etc. as cold as possible. Frozen is best.
To preserve small animals, fish and birds DO NOT CUT OR CLEAN the animal. Keep it in a cool place. Freezing in plastic bag is the best method.
TIPS FOR CAPING GAMEHEADS:
1) Cut cape around body behind shoulders.
2) Invert cape as far up neck as possible and sever head.
3) Place in a plastic bag and freeze, and bring to the taxidermist as soon as possible. Leaving head exposed to heat can cause hair slippage reducing the quality of your mount.
Any Questions? Feel free to call
DEER MOUNTS:

Full Shoulder  Left turn, right turn, straight        $175.00
Rut Mount - Sneak and Semi-Sneak                      $210.00
Doe - Full Shoulder                                   $165.00
    - Neck                                            $125.00
Adult Deer - Full Body Mount                          $650.00
Small Deer and Fawn                          call for estimate
All other Big Game                           call for estimate
Antler Repair                                Minimum $25.00
SMALL GAME

Head Mounts - Fox, Raccoon, etc...                    $ 50.00
Full Body Mounts
Fox                                                   $180.00
Raccoon                                               $150.00
Squirrel                                              $ 75.00
All open mouth mounts                         $20 - $50 Extra
All bird mounts                             CALL FOR ESTIMATE
FISH (mounted on scene free)                    $7.00 an inch
ACCESSORIES

Solid oak or walnut panels                            $ 40.00
Name tags                                             $ 10.00
Deer feet (pair)                                      $ 20.00
Gun rack                                              $ 30.00
Deer head shield w/Gun rack                           $ 65.00
(+ cost of headmount & two feet)
GO GET THEM & WE'LL SEE YOU SOON