Disguised Approach
by Jack Paluh
---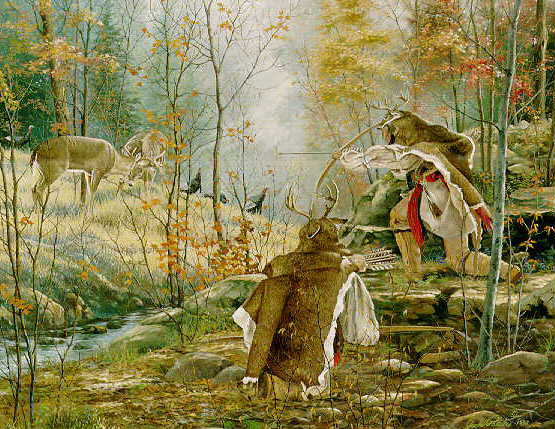 Image Size: 19" x 24"                                                     1250 S/N $125**      150 A/P $175


Cloaked in deerskins as camouflage, the Eastern Woodland Hunters silently approach two sparing bucks. Their DISGUISED APPROACH accompanied with expert calling skills, allowed the Native Hunters to advance closer and come within easy arrow shot without frightening their prey. Their hunting techniques made them masters and successful hunters of both deer and turkey.

 
---
The following are other artwork of Jack Paluh.
---
Paluh Publishing, Jack Paluh Arts, Inc.

---
DISGUISED APPROACH by Jack Paluh is now available through:
---
Jack Paluh Arts, Inc
2869 Old Wattsburg Rd.
Waterford, PA 16441
814-796-4400
Email : JPA@Erie.Net
Framing available at additional cost.
Dealer Inquires Welcome

**A Conservation Edition has also been published for N.W.T.F. A Canvas Edition may be also published.