Experience an 18th Century American Turkey Hunt with Jack Paluh's Special Edition of
WOODLAND ENCOUNTER
---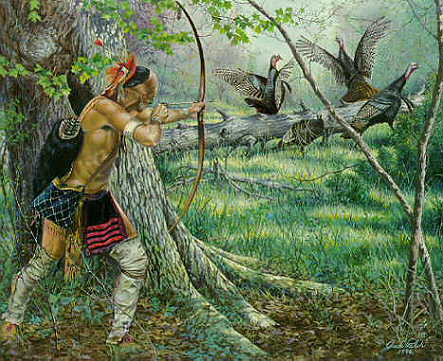 Image Size: 27" x 21 1/2"
Secondary Market Price - $225.00
Skillfully focused on the double bearded gobbler, a Native Turkey Hunter breaks his woodland cover. Having been lured into range by call and decoy, the Toms' now explode into flight - their thunderous wings splitting the stillness of the meadow. The accuracy of the archer's snap shooting will determine the ultimate success of the WOODLAND ENCOUNTER - as Precise Flight of the Arrow challenges the Instinctive Flight of the American Wild Turkey.
*A conservation edition had also been published for N.W. T. F.

---
The following are other artwork of Jack Paluh.
---
Paluh Publishing, Jack Paluh Arts, Inc.

---
ARTFUL DODGER by Jack Paluh is now available through:
Jack Paluh Arts, Inc
2869 Old Wattsburg Rd.
Waterford, PA 16441
814-796-4400
Email : JPA@Erie.Net
Framing available at additional cost.
Dealer Inquires Welcome