Explore Jack Paluh's Living With the Land Theme with
INSTINCTIVE AIM
---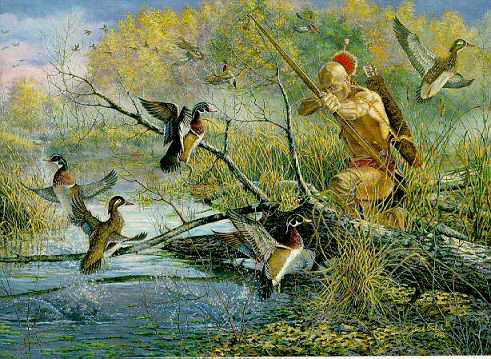 Image size 19" x 28"
$210.00 Secondary Market Price
Whistling wings shatter the stillnes of an Indian Summer morning, as wood ducks explode before a Native Stalker. Armed with reed decoys, blunt tip arrows and INSTINCTIVE AIM, the Master Archer sets his sights on a retreating drake.
The Eastern Woodland Indians were trained by their forefathers in the art of wing shooting, picking the spot where target and arrow would successfully meet. These patient hunters were known to lie in ambush along shores and beside creeks waiting for ducks to come within arrow range.
---
The following are other artwork of Jack Paluh.
---
Paluh Publishing, Jack Paluh Arts, Inc.

---
INSTINCTIVE AIM by Jack Paluh is now available through:
Jack Paluh Arts, Inc
2869 Old Wattsburg Rd.
Waterford, PA 16441
814-796-4400
Email : JPA@Erie.Net
Framing available at additional cost.
Dealer Inquires Welcome