Jack Paluh's Special Edition of
Hand is Faster Than The Eye
---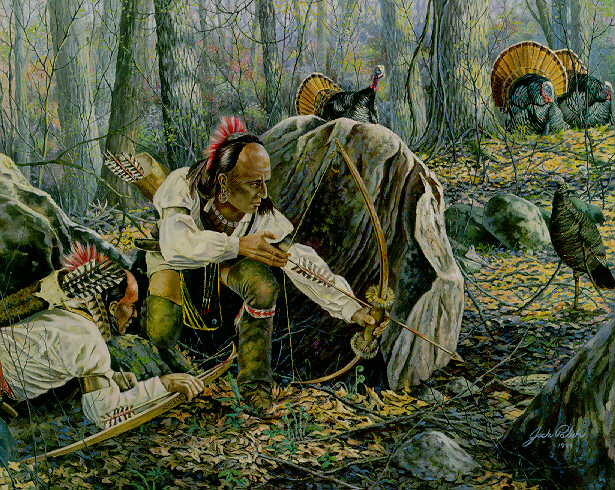 950 S/N $125, 95 A/P $175                      Image Size: 18" x 24"

Lured by call and decoy, three trophy gobblers emerge over the crest of a wooded knoll. One of the bosses catches a movement and begins to decrease his fan. Who will be victorious, Turkey or Native Hunter in Jack Paluh's HAND IS FASTER THAN THE EYE.
The American Wild Turkey has thrived in our Native Woodlands for centuries. Ever alert, they are swift on foot and in flight. These birds have offered a challenge to the American Hunter for generations.
ORIGINAL OIL AVAILABLE FOR SALE
Image Size 24" x 30" - Price $8,500.00
---
The following are other artwork of Jack Paluh.
---
Paluh Publishing, Jack Paluh Arts, Inc.

---
HAND IS FASTER THAN THE EYE by Jack Paluh is now available through:
Jack Paluh Arts, Inc
2869 Old Wattsburg Rd.
Waterford, PA 16441
814-796-4400
Email : JPA@Erie.Net
Framing available at additional cost.
Dealer Inquires Welcome