FIERCE OPPONENT by Jack Paluh
---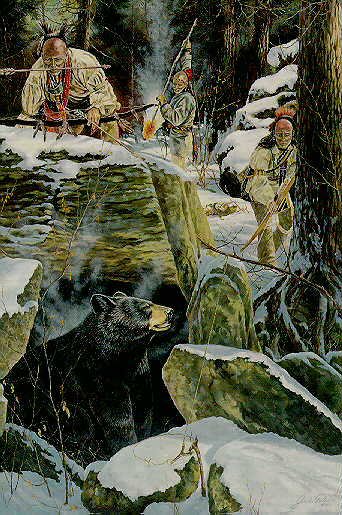 Discover the excitement of a FIERCE OPPONENT, by Jack Paluh as he completes his Living the Land Theme with an 18th Century Eastern Woodland Indian Black Bear Hunt.
A fire-bearer lights his dart of cane, jamming it into the top of the cave. Heavy smoke begins to curl up out of the bruin's lair forcing the black bear to approach the entrance and confusing his keen sense of smell. The Native Hunters prepared for this moment by placing a snare at the den's entrance to detain the bear's escape. They wait in tense silence. It is late winter and the cornered bear, aroused from his hibernation, will be a FIERCE OPPONENT.
1500 S/N $125, 150 A/P $175      Approx. Image Size: 18 1/2" x 24"

ORIGINAL AVAILABLE FOR SALE
**A Conservation Edition of Fifty has been published for non-profit organizations.
---
The following are other artwork of Jack Paluh.
---
Paluh Publishing, Jack Paluh Arts, Inc.

---
FIERCE OPPONENT by Jack Paluh is now available through:
Jack Paluh Arts, Inc
2869 Old Wattsburg Rd.
Waterford, PA 16441
814-796-4400
Email : JPA@Erie.Net
Framing available at additional cost.


Framing available at additional cost.
Dealer Inquires Welcome