MONSTER BUCK by Jack Paluh
---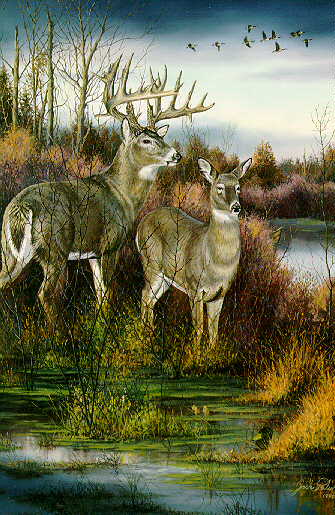 Secondary Market Price - $250.00                      Image Size: 16" x 20"

The noble pair was cautious and exceptionally mysterious as they broke their marshy cover. Their appearance was only for an instant. His massive rack had exceeded any I had ever seen as it glowed in the evening light. He was the "MONSTER BUCK" of which I had heard many tales. Then suddenly, as if they could hear the pounding of my heart, they melted back into the thick wetland cover.
ORIGINAL OIL AVAILABLE FOR SALE
Image Size 24" x 30" - Price $8,500.00
*A Conservation Edition has also been published for Non-Profit Organizations.
The following are other artwork of Jack Paluh.
---
---
Paluh Publishing, Jack Paluh Arts, Inc.
---
For further information on this print and other Jack Paluh prints, please contact:
Jack Paluh Arts, Inc
2869 Old Wattsburg Rd.
Waterford, PA 16441
814-796-4400
Email : JPA@Erie.Net
Framing available at additional cost.
Dealer Inquires Welcome