Travel back to the 1800's as Jack Paluh's Living with the Land Theme envisions
WAPITI FALLS by Jack Paluh
---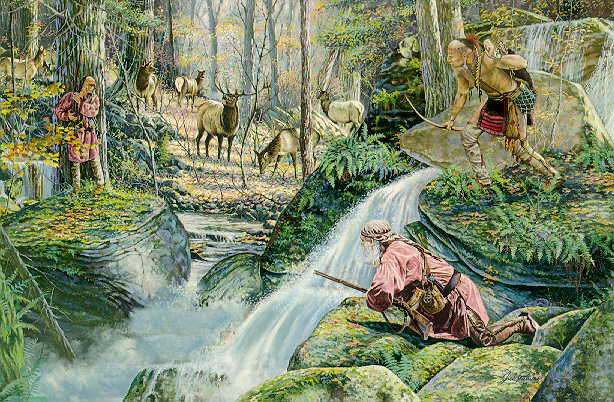 Image Size: 21"x 29 1/2"                                                                        1500 S/N $125, 150 A/P $175

Inspired by the published diary of Philip Tome, a renowned Eastern Elk Hunter of the early 1800's Jack Paluh has created WAPITI FALLS, set deep in the Pennsylvanis Woodlands. The hunting party, positioned on the decending rocks, is summoned by the challenge of the bull elk's bugle. The roaring waters of WAPITI FALLS have both silenced the stalking approach of the hunters and beckoned the thirsty elk herd to drink in the hollow.
---
The following are other artwork of Jack Paluh.
---
Paluh Publishing, Jack Paluh Arts, Inc.

---
WAPITI FALLS by Jack Paluh is now available through:
Jack Paluh Arts, Inc
2869 Old Wattsburg Rd.
Waterford, PA 16441
814-796-4400
Email : JPA@Erie.Net
Framing available at additional cost.
Dealer Inquires Welcome