TENDING RITUAL
by Jack Paluh
---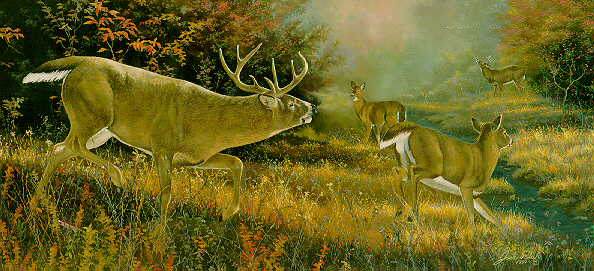 Jack returns to his first love of Whitetails, with his new release entitled, Tending Ritual. Prompted by a scene he experienced last archery season, Jack captures whitetail bucks as they chase and tend doe in a colorful autumn backdrop. These prints are available mid September to coincide with archery season.

650 S/N $115.00    95 A/P $165.00
Approximate Image Size: 13 1/2" x 29 1/2".

A Premiere Canvas Edition of Tending Ritual will also be released. Larger than the paper print, and being the same size as the original painting, these prints measure 17" x 36". We will offer Artist Enhancements, A First for Paluh Collectors, an actual hand painting on the canvas print, giving the originals 3-Dimensional quality.

Each Artist Enhancement will be unique to itself and very collectable. Edition Size: 175 Signed and Numbered $350.00, canvas print with Artist Enhancement $450. Image Size: 17" x 36". Canvas framing available upon request.

 
---
The following are other artwork of Jack Paluh.
---
Paluh Publishing, Jack Paluh Arts, Inc.

---
FIRST HUNT by Jack Paluh is now available through:
Jack Paluh Arts, Inc
2869 Old Wattsburg Rd.
Waterford, PA 16441
814-796-4400
Email : JPA@Erie.Net
Framing available at additional cost.
Dealer Inquires Welcome